Most earlier versions of Windows came with RealAudio player capability installed. However, Windows XP no longer comes standard with the RealPlayer to play RealAudio media files, which this website and many others are based on.

You can try clicking on this page at Real.com and download the "free trial" of the latest version direct from Real Networks.

Real.com tries to bribe, bully and baffle you into purchasing their realplayer. But you don't need to. The free realplayer will work just fine. They have made this almost impossible to find anymore on their website. As a onvenience of our visitors, we have placed both the Windows 9x and the XP versions of Free RealPlayer 8 on our server here.. Simply save it to your harddrive and then doubleclick on the saved file to run the install.

NOTE: Please do not link to this file anywhere else. If our bandwidth usage becomes too high with downloads of this file, we will remove it from the server and our visitors will simply have to go to Real Networks to try and get it.

email me and I'll fix them.

This is the basic install and will only install RealPlayer to your system. Follow the prompts, uncheck everything, except the most basic configuration to handle RealAudio media. They will prompt you to "register". You can use a fake email address, it doesn't matter, you do not need to give them any personal information.

If you would like to get rid of the little RealAudio StartCenter icon on your task bar and reduce system load when not playing realaudio files, simply RightClick on the icon and choose "Preferences" and on the preferences dialog box pictured below, click the "Settings" button and disable the Start Center. I would also recommend unchecking the item at the top "Play a clip when RealPlayer starts up" unless you really like listening to the advertisement.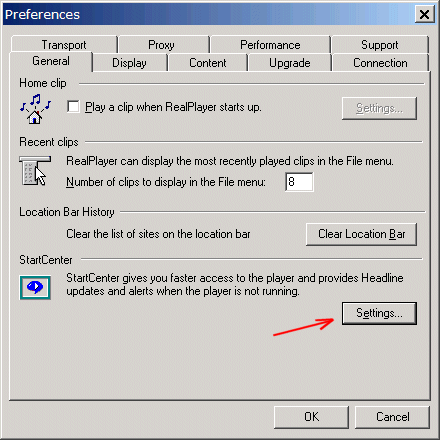 We hope you enjoy listening to the Voice Professionals. Please tell others about this site.